King's Quest: The Mask of Eternity Walkthrough
Back to the Realm of the Sun-Level 2 To the Inner Sanctum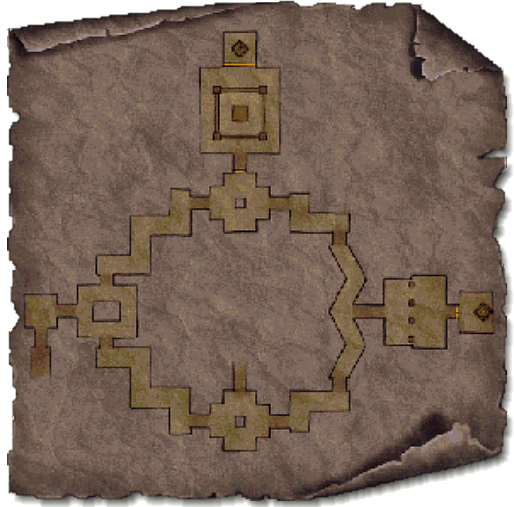 Realm of the Sun-Level 3
---
Go to the door that asks you to seek the light. This is on the NW side of the map.
Use the table on the door.
Follow the passage. Notice the panel in the wall.
Make a left at the fork.
Continue until you can make a right.
Click on the golden urn.
Go back to the now open panel.
Take the potions.
Go through the West opening.
Continue to the door that speaks of order.
Hall of Order
Head to the North part of the map.
Click on the Archon.
Enter the open door.
Put the mask puzzle in order.
Enter through the now open door.
Take the key.
Chalice of Order
Head to the room to the East on the map.
Prepare for a battle.
Use the key on the door.
Take the chalice.
Go back to the door that speaks of order.
Use the tablet on the door.
---

You can help keep The Sierra Help Pages alive

by helping to defray some of the costs of hosting this site. If it has been of help to you, please consider contributing to help keep it online.

Thank you.
Top
Home | Sierra Game Help | Walkthroughs | Hints, Tips & Spoilers | Utilities | Links | Forums | Search
© 2006 to present The Sierra Help Pages. All rights reserved. All Sierra games, artwork and music © Sierra.