The cursor editor allows you to create and edit cursor resources.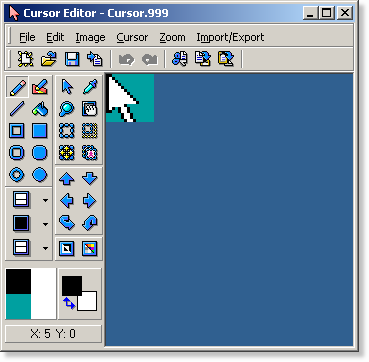 An explanation of it's elements:
New/Open/Save - Create a new font, Load an existing font, Save the current font.
Import Bitmap - Load a windows bitmap (.bmp) and set it to the current char.
Undo - Undo the last modification to the char.
Cut/Copy/Paste - Cut the current char to the clipboard, Copy the current char to the clipboard, Paste to the current char from the clipboard.
Drawing Tools - Use to draw the chars.

Arrow - Turns drawing off.
Pen - Plots pixels on the drawing canvas.
Line - Draws lines on the drawing canvas.
Fill - Fills an area with the current color
Circles - Draws a circle on the drawing canvas.
Round Rectangles - Draws rounded rectangles on the drawing canvas.
Rectangles - Draws rectangles on the drawing canvas.
color Grabber - Sets the current color to the color on the drawing canvas where you click the mouse.

Pen Style - Allows you to draw with special patterns.
Pen Size - Adjusts the thickness of the brush.
Char Shifters - Shifts the char up, down, left or right.
Flip char - Flips the char horizonally or vertically.
Invert - Inverts the colors of the char.
Zoom In/Out - Zooms in an out on the char from 1:1 to 16:1. Normal is about 2:1.
Drawing Surface - The drawing canvas.
color Palette - Use to select the colors to draw with. White is transparent.
Selected colors - The colors selected to draw with.
Swap Selected colors - Swaps the two selected colors with each other.
For more information on cursor resources, look at the overview.
For a complete lesson on using the cursor editor, see the SCI tutorial Editing Cursors.